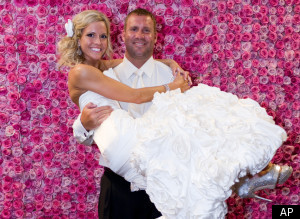 Price tag on just the space, that included 10 meeting rooms, a convention hall and all the parking spots at the place?
$113,265
. That doesn't even include a complimentary cocktail! Not to mention the pricey beef tenderloin and halibut on the menu, the floral decorations, additional security or transportation. The catering company alone used 150 employees for the festivities.
People are speculating at the actual price of the reception, with some guessing anywhere from $200 a head to $600 a guest, making the event anywhere from $223,000 to $473,000
Ben is on a 8 year 102 million dollar contract so I think he is fine. All those little fuckers on My Super Sweet 16, who's parents love them more than mine, have parties that total around 500k. And most of those kids dont even have rapes they need their wife to over look. Nothing like money to make rapes disappear, in the eyes of the other woman of course. The rapee will never forget...unless she never knew in the first place.
Im pretty sure that is the smallest way possible to carry 4 million dollars
-Les Anderson